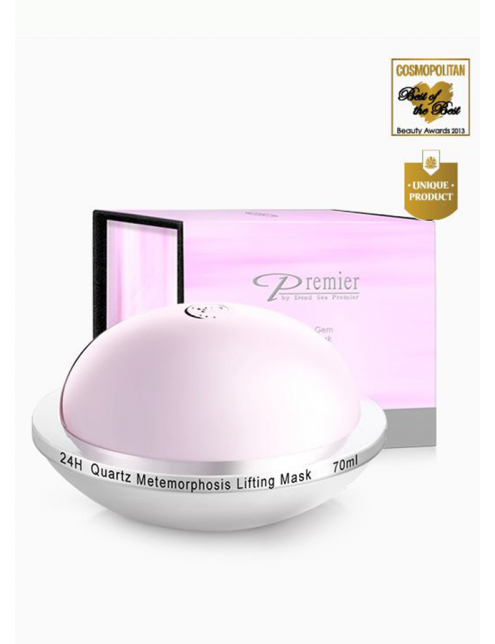  
Quartz Gem Metamorphosis Lifting Mask
A luxury mask that instills skin with the mystifying powers of rose quartz, botanicals, and minerals from the legendary Dead Sea. 
A unique process in Premier laboratories allows our scientists to hone the lifting and sculpting abilities of plant stem cells and quartz essence. With the help of Swiss Alpine Rose stem cells, epidermal stem cells are repaired and corrected. As the mask is massaged onto the skin, it turns colors, transforms the contours of your profile, and transcends all of your beauty expectations. 
When transformed, the skin is provided with our advanced 24-hour moisture complex deliver the skin moisture for 24 hours all the while letting your skin breathe. This sculpting mask renews and redefines the complexion by firming and toning your skin.
Size
70 ml / 2.3 Fl.oz
Brightens and tightens skin

Saggy skin magically lifts and firms itself

Diminishes fine lines, wrinkles, and expression marks

Skin feels soft, silky, and new with each application





APPLICATION




The mask is to be used two-three times a week. On clean skin, apply the mask and massage it in soft, circular motions. While massaging you'll see the mask's color turn from white to rose pink. After the mask has completely changed its color, leave it on for 5 minutes before rinsing it away to reveal brighter skin.





Effectiveness immediate and lasting age defying and moisturizing performance*

Improvement of hydration of the skin: +33%






INGREDIENTS

Rose Quartz Powder: 

Rose quartz powder is derived from the rose quartz gem which is believed by many that can deliver healing energy to the skin. When rose quartz powder is in contact with the skin in circular motions it generates an electric magnetic field assisting actives to penetrate deeper into the skin. It creates a natural and repeated vibration helping to calm and improve circulation providing a youthful and radiant appearance. 



Swiss Alpine Rose Stem Cells: 

Alpine roses are rare and resistant plants growing in extreme weather conditions in very high altitudes in the Swiss alpines. We have taken the alpine rose as they are known for many medical benefits and withhold excellent antioxidant properties. When the body produces new stem cells it lacks the ability to correct harms that appear to the surface of the skin. However, alpine roses have the capability to correct flaws that form from exposure to the sun, environment, and extreme weather conditions. By adding alpine rose stem cells in the formula we are able to help the skin repair imperfections as well as inhibit the formation of carbonylated proteins and thus protects the skin against this aging mechanism. In addition, it provides the skin with the following:


- Protects skin stem cells from within




- Increases skin stem cell vitality




- Boosts epidermal regeneration




- Improves skin barrier function




- Helps skin to cope with climate changes




- Protects against damage caused by oxidative stress




- Protects against skin protein oxidation




 - Restores skin's resilience


- Protects against transepidermal water loss



24-Hour Moisture: 

A synergistic blend of natural moisturizing factors, humectants, hygroscopic substances, skin rejuvenators, and skin protectants which provide 24 hours of moisturization while allowing the skin to breathe. This remarkable complex contributes to your skin is the following perks: 


- Counteract signs of dry skin




- Boosts radiance




- Restores smooth and supple skin




- Increases skin flexibility 




-  Facilitates enzymatic reactions necessary for the maturation of keratinocytes and their shedding (desquamation)





Dead Sea Minerals: 

The Dead Sea was formed over three millions of years at the lowest point on earth at 1378 feet below sea level in the middle of the African Fault. It's known as a prime spot for the skin-care industry, many thanks to the very high content of salt, minerals, and natural elements. These unique minerals help to rejuvenate, heal, and smooth the skin. Premier laboratories capitalize on this unique natural source and use it to produce the highest level of skin-care perfection. Relying on the Dead Sea's composition high levels of magnesium, calcium, silica, sodium, and potassium and on advanced scientific processes, Premier's cosmetic products are the best of their kind.



Kaolin: 

Kaolin is a white gentle clay which helps to purify the skin and assists in lifting the skin.  It is suited for sensitive skin helping to minimize pore-clogging, dirt, and oils all the while cleansing dead skin cells and debris from the surface of the skin. 



Aloe Vera: 

Aloe vera is an amazing plant which is rich in vitamins and is known for its natural healing and calming properties. In addition to its soothing abilities, it supplies the skin moisture, encourages skin repair, relieves skin irritation, combats acne, and slows down the process of aging. All together this plant does wonders to the skin and when paired with active ingredients, aloe can deliver results faster-leaving skin nourished, refreshed, and balanced.



Liposome Complex Vitamin A & E:

 Our liposome complex is formulated to help deliver the skin active ingredients in the best and most efficient way. Vitamin A is a true superstar for the skin, it is perhaps the best know anti-aging ingredient. It is an extremely effective cell-communicating ingredient, which means it can connect to any skin cell and tell it to behave like a healthy, younger skin cell. It is an antioxidant and thus can interrupt the free-radical damage process that causes the skin to appear and act older. This action helps prevent wrinkles to appear and increases collagen production for an overall anti-aging effect. As for vitamin E is the best anti-oxidant in the world, it protects the skin from environmental pollution. It has a protecting action against UV radiation, acts excellent moisturizer, and contains powerful anti-inflammatory action - which helps to prevent the signs of premature aging.

 

Full Ingredients List:

AQUA / DEIONIZED WATER / EAU, ISOPROPYL MYRISTATE, CAPRYLIC/CAPRIC- TRIGLYCERIDE, TITANIUM DIOXIDE, CETEARYL ALCOHOL, CETEARETH-20, PROPYLENE GLYCOL, GLYCERYL STEARATE SE, KAOLIN, GLYCERINE, TALC, CYCLOPENTASILOXANE, SIMMONDSIA CHINENSIS (JOJOBA) SEED OIL, PRUNUS AMYGDALUS DULCIS (SWEET ALMOND) OIL, RHODODENDRON FERRUGINEUM LEAF CELL CULTURE EXTRACT, ISOMALT, SODIUM BENZOATE, QUARTZ POWDER, PENTYLENE GLYCOL, SODIUM LACTATE, LACTIC ACID, SERINE, UREA, SORBITOL, SODIUM CHLORIDE, ALLANTOIN, BHT, ALCOHOL SD40, DIMETHICONE, DMDM HYDANTOIN, IODOPROPYNYL BUTYLCARBAMATE, MICA 77019, TITANIUMDIOXIDE 77891, TINOXIDE, PHENOXYETHANOL, ETHYLHEXYLGLYCERIN, LECITHIN (LIPOSOME COMPLEX), GINKGO BILOBA LEAF EXTRACT, RETINYL ACETATE, TOCOPHEROL, CI 77491, TITANIUM DIOXIDE, MICA, POLYESTER-1, SILICA DIMETHYL SILYLATE, FRAGRANCE / PARFUM, ALOE BARBADENSIS (LEAF JUICE), BENZYL SALICYLATE, CITRONELLOL, GERANIOL.

*Disclaimer : Premier Dead Sea product ingredient listings are updated periodically. Before using a Premier Dead Sea product, please read the ingredient list on the packaging of your product to be sure that the ingredients are appropriate for your personal use.

USE WITH

   Quartz Gem Lifting Serum: 

 Don`t let your transformation turn back. Apply this serum after the mask treatment is done to lock in the lifting and illuminating results. This serum uses alpine rose stem cells to moisturize and lift skin while quartz essence resculpts the contours of your face. You`ll see a noticeable difference in no time at all.   



Quartz Gem Liquid Ice Lifting Cream: 

Lock in the results of the mask and serum with this one last step. A light lifting cream that lifts skin and contours your features for silky definition. A unique process in laboratories hones the essence of quartz and precious botanicals to brighten the complexion, hydrate, and lift skin for stunning form. 



Quartz Gem Brightening Under Eye Treatment: 

Don`t let your eyes go unnoticed. This brightening treatment reawakens the delicate skin around the eye as it lifts sagging skin, erases wrinkles, and improves any under-eye dullness. When paired with the mask, your entire look will be magically transformed.

Minimized the appearance of wrinkles: -25%




*instrumental test, 10 women, immediate after application and after 24 hr of 24H Quartz Gem Lifting Mask, 24H Quartz Gem Lifting Serum, 24H Quartz Gem Under Eye Treatment And 24H Quartz Gem Lifting Cream.






Du kanske också gillar
ansiktsvard
Quartz Gem Lifting Serum
A lifting serum that lifts skin and structures your features for silky definition. A unique process in...
399,00 kr
−80%
Baspris
1 995,00 kr
Pris
Det finns inga kundrecensioner just nu.
16 andra produkter i samma kategori: