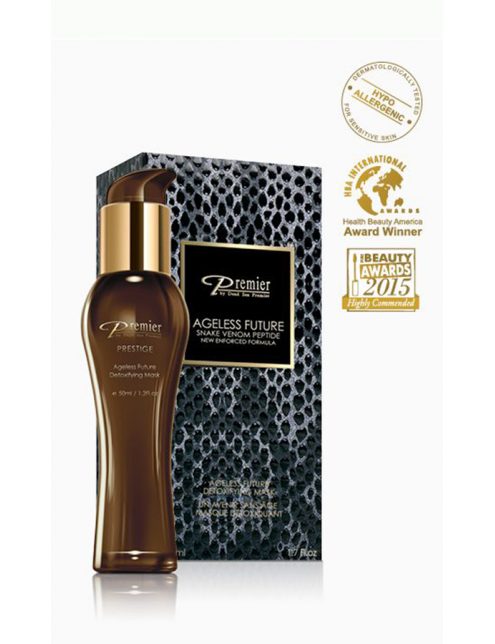  
Ageless Future Snake Venom Detoxifying Mask
A revolutionary treatment that uses a targeted cosmetic solution to encourage a visibly softer, healthier-looking complexion. As years pass by the skin is exposed to pollution, dirt, and free radicals that may harm the skin and clog the pores. 
Premier has crafted this unique mask that foams up and injects the skin with precious oxygen when making contact with skin. Impurities and dirt that despoil the complexion are pushed through the pores enabling the skin to receive a boost of oxygen. 
Formulated with snake venom inspired peptides the mask prevents muscle contraction, releasing facial traction, which forms wrinkles and fine lines to the skin. Mrytle helps to heal cells quicker and recover the appearance of damaged areas. Also, our Premier organic oat helps to firm the skin providing the skin a lifting and tightening appearance. 
This Seamax Complex revives existing skin cells to encourage the synthesis of elastic, softer skin, and a younger-looking complexion.
BENEFITS
Restores skin natural cell renewal

Reforms skin's natural elasticity

Detoxifies skin

Reveals healthier looking skin

Enriches skin from within





APPLICATION




Apply on your face a thin and even layer of the mask. Let the mask rest for three to five minutes to let it foam and change colors. Rinse the mask away with warm water and pat skin dry. For best results, use the mask up to three times a week and follow with the Cell Renewal Serum and Cell Renewal Cream.





Effectiveness




An exceptional performance *.

Regeneration*

Wrinkles appearance is reduced -30%

The skin looks firmer +32%

moisture level is Improved +33%


100% of women approved**

Wrinkles appear less visible

Over all skin texture and wrinkles feel smoother

Measured by an independent institute for skin research***

Dermatology tested100%

Hypoallergenic tested 100%

Suitable for sensitive skin 100%


* instrumental measurement on 15 women, after application of Ageless future to face and neck for 8 consecutive days of once a day the Ageless Future Snake venom cell renewal serum, Ageless Future Snake Venom Cell Renewal Cream And Once A Week For The Ageless Future Snake Venom Detoxifying Mask, Ageless Future Snake Venom Wrinkle Filler.
** Satisfaction test, 22 women, 1 week. Use once a day the Ageless Future Snake venom cell renewal serum, Ageless Future Snake Venom Cell Renewal Cream And Once A Week For The Ageless Future Snake Venom Detoxifying Mask, Ageless Future Snake Venom Wrinkle Filler.
*** Clinical measurement on by Patch tests carried out on 50 human volunteers

INGREDIENS

Snake Venom Peptides: 

Upon clinical trials, snake venom has the ability to assist in reducing wrinkles by restraining muscle contractions. Our synthetic peptide is paralleled to the venom of the Temple Viper. This tripeptide targets neuromuscular activity that creases skin and causes wrinkles, fine lines, and expression lines. Providing your skin smoothing, instant, anti-aging, and quick anti-wrinkle properties.

Seamax Complex:

 Inspired by the wisdom of Ancient Greek women, Premier created this unique and unprecedented complex to slow the aging of the skin. A cell regenerator obtained from Myrtle, prized in antiquity for its rejuvenating virtues, which slows the expression of the senescence, markers down and limits dermal degeneration and increases the lifetime of the cells.

Dead Sea Minerals:

 The Dead Sea was formed over millions of years at the lowest point on earth 1378 feet below sea level in the middle of the African Fault. It's known as a prime spot for the skin-care industry, many thanks to the very high content of salt, minerals, and natural elements. These unique minerals help to rejuvenate, heal, and smooth the skin. Premier laboratories capitalize on this unique natural source and use it to produce the highest level of skin-care perfection. Relying on the Dead Sea's composition high levels of magnesium, calcium, silica, sodium, and potassium and on advanced scientific processes, 


Premier's cosmetic products are the best of their kind.





Premier Organic Lift: 

Our Premier Organic Lift is drawn from organic Avena Sativa oats known as "sugar for the skin"which assist to obtain an excellent, instant lifting effect. It provides the skin a tighter and smoother appearance due to its extraordinary elastic, flexible molecule.



Kojic Acid: 

Kojic acid is a lightening agent extracted from different kinds of fungi that assist the skin brightening. It has the ability to prevent excessive melanin production by inhibiting the formation of tyrosine helping to control the appearance of dark spots to the surface of the skin.



Aloe Vera: 

Aloe vera is an amazing plant which is rich in vitamins and is known for its natural healing and calming properties. In addition to its soothing abilities, it supplies the skin moisture, encourages skin repair, relieves skin irritation, combats acne, and slows down the process of aging. All together this plant does wonders to the skin and when paired with active ingredients, aloe can deliver results faster-leaving skin nourished, refreshed, and balanced.

 

Full Ingredients List:

AQUA/DEIONIZED WATER/EAU, SODIUM COCETH SULFATE, SACCHARIDE HYDROLYSATE, GLYCERINE, PEFLUOROHEXANE, ALOE BARBADENSIS (LEAF JUICE), AVENA SATIVA (OAT) KERNEL EXTRACT, PEG-4, LACTIC ACID, KOJIC ACID, BUTYLENE GLYCOL, MORUS BOMBYCIS ROOT EXTRACT, ARCTOSTAPHYLOS UVA-URSI LEAF EXTRACT, GLYCYRRHIZA (LICORICE) ROOT EXTRACT, CITRUS AURANTIUM DULCIS (ORANGE) OIL, CITRUS MEDICA LIMONUM (LEMON) PEEL OIL, FRAGRANCE/PARFUM, POLYHYDROXYSTEARIC ACID, MARIS SAL/DEAD SEA SALT, POLYQUATERNIUM 7, ISONONYL ISONONANOATE, HYDROLYZED MYRTUS COMMUNIS LEAF EXTRACT, PHENOXYETHANOL, ETHYLHEXYLGLYCERIN, ETHYLHEXYL ISONONANOATE, MAGNESIUM ALUMINUM SILICATE, CHONDRUS CRISPUS/CARRAGEENAN, BENZYL ALCOHOL, METHYLCHLOROISOTHIAZOLINE, SODIUM COCAMIDOPROPYL PG-DIMONIUM CHLORIDE PHOSPHATE, DIPEPTIDE DIAMINOBUTYROYL BENZYLAMIDE DIACETATE, GERANIOL, HEXYL CINNAMAL, BUTYLPHENYL METHYLPROPIONAL, LINALOOL, ALPHA-ISOMETHYL IONONE, BUTYLENE GLYCOL.

*Disclaimer : Premier Dead Sea product ingredient listings are updated periodically. Before using a Premier Dead Sea product, please read the ingredient list on the packaging of your product to be sure that the ingredients are appropriate for your personal use.

USE WITH

Ageless Future Snake Venom Cell Renewal Serum:

 Lock in skin's newfound luminosity with this nourishing serum. When applied after the Detoxifying Mask, the serum nourishes skin and astringes pores to create an even skin texture.



Ageless Future Snake Venom Cell Renewal Cream:

 After you've renewed skin, maintain the complexion's natural balance by massaging this regenerative cream onto your skin. This cream will help firm and tighten skin as it locks in the moisture you need.



Ageless Future Snake Venom Deep Wrinkle Filler:

 Erase the appearance of deep creases and wrinkles with this fast-acting wrinkle filler. When applied over the serum and cream, this wrinkle filler can plump up deep creases and prevent fine lines in the future.



Det finns inga kundrecensioner just nu.
16 andra produkter i samma kategori: