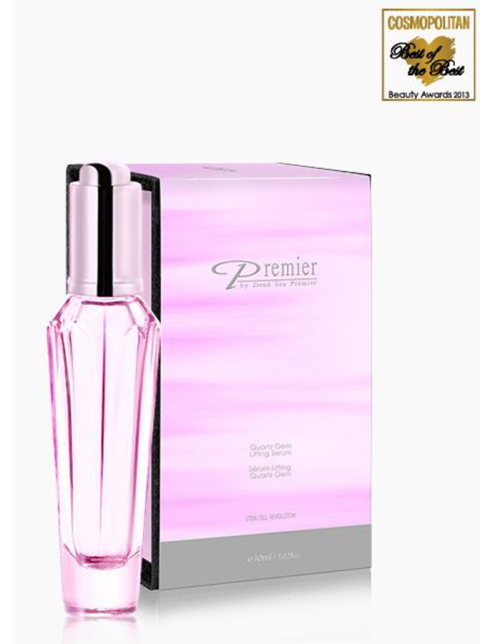  
Quartz Gem Lifting Serum
A lifting serum that lifts skin and structures your features for silky definition. A unique process in laboratories hones the essence of quartz and precious botanicals to brighten the complexion, hydrate, and lift skin for stunning form. 
Formulated with Swiss Alpine Rose stem cells helping to correct the damage that human epidermal stem cells aren't able to repair on their own when producing and protects skin from transepidermal water loss.
Furthermore, we have combined in this perfect formula our advanced 24-hour moisturizing complex delivering your skin moisture for 24 hours all the while enabling the skin to breathe. 
This serum is a light and velvety that once applied to the skin appearance of wrinkles are diminished, and skin feels firmer and lifted.

Size 30 ml / 1.02 Fl.oz
BENEFITS
Hydrates and moisturizes

Balances skin

Lifts and firms skin

Decreases wrinkles instantly

Brightens skin





APPLICATION




Apply serum onto clean skin in soft, upward motions with the heel of your palm. For best results, use the serum two times a day and combine with the Quartz Gem Liquid Ice Lifting cream.





Effectiveness
Effectiveness immediate and lasting age defying and moisturizing performance*

Improvement of hydration of the skin: +33%

Rose Quartz Powder: 

Rose quartz powder is derived from the rose quartz gem which is believed by many that can deliver healing energy to the skin. When rose quartz powder is in contact with the skin in circular motions it generates an electric magnetic field assisting actives to penetrate deeper into the skin. It creates a natural and repeated vibration helping to calm and improve circulation providing a youthful and radiant appearance. 



Swiss Alpine Rose Stem Cells: 

Alpine roses are rare and resistant plants growing in extreme weather conditions in very high altitudes in the Swiss alpines. We have taken the alpine rose as they are known for many medical benefits and withhold excellent antioxidant properties. When the body produces new stem cells it lacks the ability to correct harms that appear to the surface of the skin. However, alpine roses have the capability to correct flaws that form from exposure to the sun, environment, and extreme weather conditions. By adding alpine rose stem cells in the formula we are able to help the skin repair imperfections as well as inhibit the formation of carbonylated proteins and thus protects the skin against this aging mechanism. In addition, it provides the skin with the following:


- Protects skin stem cells from within




- Increases skin stem cell vitality




- Boosts epidermal regeneration




- Improves skin barrier function




- Helps skin to cope with climate changes




- Protects against damage caused by oxidative stress




- Protects against skin protein oxidation




 - Restores skin's resilience


- Protects against transepidermal water loss



24-Hour Moisture: 

A synergistic blend of natural moisturizing factors, humectants, hygroscopic substances, skin rejuvenators, and skin protectants which provide 24 hours of moisturization while allowing the skin to breathe. This remarkable complex contributes to your skin is the following perks: 


- Counteract signs of dry skin




- Boosts radiance




- Restores smooth and supple skin




- Increases skin flexibility 




-  Facilitates enzymatic reactions necessary for the maturation of keratinocytes and their shedding (desquamation)





Dead Sea Minerals: 

The Dead Sea was formed over three millions of years at the lowest point on earth at 1378 feet below sea level in the middle of the African Fault. It's known as a prime spot for the skin-care industry, many thanks to the very high content of salt, minerals, and natural elements. These unique minerals help to rejuvenate, heal, and smooth the skin. Premier laboratories capitalize on this unique natural source and use it to produce the highest level of skin-care perfection. Relying on the Dead Sea's composition high levels of magnesium, calcium, silica, sodium, and potassium and on advanced scientific processes, Premier's cosmetic products are the best of their kind.



Rosehip Oil: 

Rosehip oil is extracted from the seeds of rose plants which is the fruit left after a rose has bloomed and discarded its petals. The rose bushes are mainly grown in Chile and are full of essential fatty acids vitamins, and antioxidants that deliver the skin plenty benefits:


- Hydrates the skin 




- Helps maintain a strong barrier to the skin and prevent water loss




- Enriched with Vitamin A and vitamin C 




- Can help with collagen production and maintenance 




- Helps reduce fine lines and scars by renewing skin tissue and cells. 




- Assists the skin with exfoliation 




- Can enhance cell turnover




- Consists of vitamin C assisting in cell regeneration and radiance 




- Contains brightening properties helping brighten the skin





Vitamin A: 

Vitamin A is a true superstar for the skin, it is perhaps the best known anti-aging ingredient. It is an extremely effective cell-communicating ingredient, which means it can connect to any skin cell and tell it to behave like a healthy, younger skin cell. It is an antioxidant and thus can interrupt the free-radical damage process that causes the skin to appear and act older. This action helps prevent wrinkles to appear and increases collagen production for an overall anti-aging effect.

 

Full Ingredients List:

CYCLOPENTASILOXANE, CAPRYLIC/CAPRIC- TRIGLYCERIDE, DIMETHICONE/VINYL DIMETHICONE CROSSPOLYMER, SODIUM POTASSIUM ALUMINUM SILICATE, MARIS SAL(DEAD SEA SALT), PRUNUS AMYGDALUS DULCIS (SWEET ALMOND) OIL, SIMMONDSIA CHINENSIS (JOJOBA) SEED OIL, ROSA CANINA FRUIT (ROSE HIPS KERNEL) OIL, RHODODENDRON FERRUGINEUM LEAF CELL CULTURE EXTRACT, ISOMALT, SODIUM BENZOATE, QUARTZ POWDER, PENTYLENE GLYCOL, SODIUM LACTATE, LACTIC ACID, SERINE, UREA, SORBITOL, SODIUM CHLORIDE, ALLANTOIN, RETINOL PALMITATE, TOCOPHERYL ACETATE.

*Disclaimer : Premier Dead Sea product ingredient listings are updated periodically. Before using a Premier Dead Sea product, please read the ingredient list on the packaging of your product to be sure that the ingredients are appropriate for your personal use.

Metamorphosis Lifting Mask:

 A stunning transformation is seen in as little as one, two, three. Is to be applied twice or three times a week, massage this mask onto the skin in soft, circular motions. In a matter of seconds, the mask will turn from white to rose pink while quartz essence reacts to lift, brighten, and renew skin.



Rose Quartz Gem Stone:

 Whether or not you believe in any type of spiritual or healing power, you won't be able to deny the magical touch that this stone gives to your skincare routine. This natural, rose-colored stone is cut and polished for skincare application and contouring. Simply apply your cleanser, serum, or moisturizer with the stone to enhance your daily regimen.



Quartz Gem Liquid Ice Lifting Cream:

 Rehydrate and reenergize the rest of your complexion. As the formula nourishes, hydrates, and firms, it creates a seal to ensure that skin keeps its natural luminosity. When applied after the Lifting Mask and Serum, the Lifting Cream seals in skin's luster of collagen and elastin.

Minimized the appearance of wrinkles: -25%


*instrumental test, 10 women, immediate after application and after 24 hr of 24H Quartz Gem Lifting Mask, 24H Quartz Gem Lifting Serum, 24H Quartz Gem Under Eye Treatment And 24H Quartz Gem Lifting Cream.







Det finns inga kundrecensioner just nu.
16 andra produkter i samma kategori: